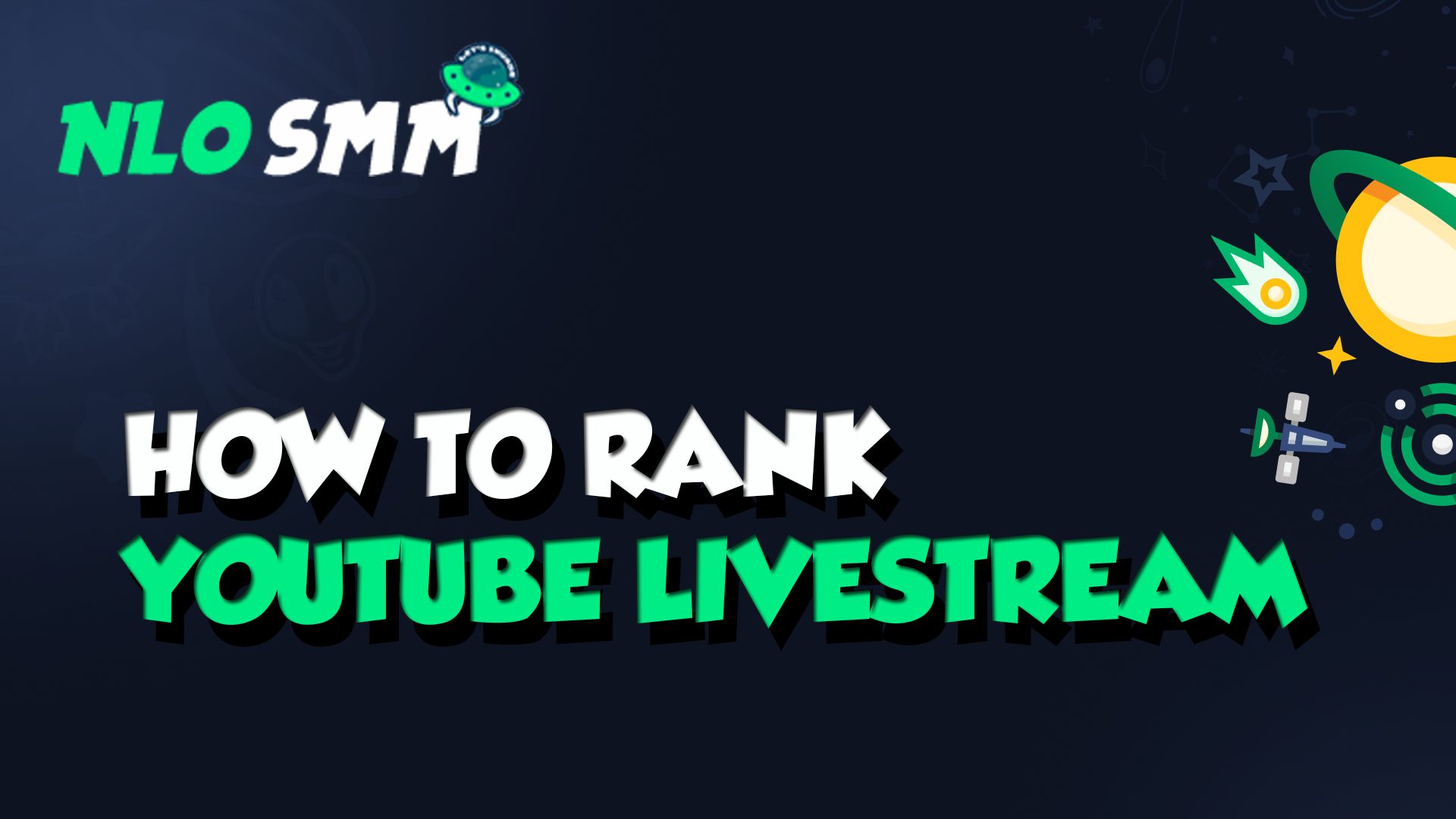 How To Rank YouTube Livestream for Keywords? Top Exposure YouTube Livestream !
We've been manipulating YouTube ranks for over 7 years, either if it's a regular video or a YouTube Livestream, and we've been doing it successfully and without any problems with some of the basic principles of the YouTube algorithm. Today in this article we will cover everything you need to know in order to learn how to rank YouTube Livestream for Keywords or get Top Exposure YouTube Livestream. There is no secret code, like one thing that you will need to do in order to get your Livestream ranked for all the keywords, there are sets of many different things that can affect rankings and today we will cover everything you need to know before starting Livestream!
1
Name your files right!
This part is only if you are using OBS to stream the Loop video of your choice.
Many people don't understand that it is really important for you to name your video file & thumbnail file after your keywords. How? It's easy, grab the title you are about to use in your Livestream, in our example it will be " Subway Surfers Hack - How To Get Free Coins & Keys in 2022 iOS Android " so we will rename the files to suit that, let's take a look how it looks:
Now what you will have to do next is to use that same title for metadata for both video + thumbnail, just right-click on the file, go to "Properties" and then add it like this (check the image below):
Now, the first step is basically finished. Now YouTube knows your keywords right after you clicked on the "Upload" button. Let's move on to the other step!
Basic SEO
When it comes to preparing your Title & Description it's all about the main keywords you are targeting. We love to put the main keyword FIRST in the title, this is how it looks like when we do it:
All that is left to be done is to add your tags, and language and hit that "Save" button. The next thing to do is to start your live stream because we are ready to rank thins YouTube Livestream and get that top exposure!
Ranking YouTube Livestream
Now comes the interesting part and it's about how to actually rank it? Well, we will list all of the services from our panel that we are about to use on this live stream, along with the quantity we used, and at the end of this you will see the amazing results we had (all top rankings are there).
1904 🛸 YouTube Live Viewers [🔥𝟭𝟮% - 𝟯𝟬% 𝗩𝗶𝗲𝘄𝗲𝗿𝘀 𝘄𝗶𝗹𝗹 𝗦𝘁𝗮𝘆 𝟮𝗵] | 🔻 Non-Drop | ☄️Speed +1M| ♻️ No Refill -

10,000 views for the start, to boost it at the beginning.

1506 🛸 YouTube 𝙁𝘼𝙎𝙏 Likes [👽 High Quality] | 🔻 Non-Drop | ☄️Speed +100k | ♻️ 30 Days Refill -

Right after your viewers start to kick in, order around 500 likes for the start.

1661 🛸 YouTube Live Shares [🔥𝗥𝗔𝗡𝗞𝗜𝗡𝗚] | 🔻 Non-Drop | ☄️Speed +3k| ♻️ Lifetime Refill -

Shares are always important and we always order around 1000 of these super-fast shares.

1662 🛸 YouTube Live [🔥𝗔𝗨𝗧𝗢-𝗖𝗛𝗔𝗧] | 🔻 Non-Drop | ☄️Speed +1k| ♻️ Lifetime Refill -

If you don't have an organic audience it's always best to order some of our auto-chat, YouTube loves when it sees action on the live stream chat.
After your first order of viewers stops delivering it's time to order more of them, if you are in a competitive niche we suggest you re-order the same server and again 10,000 viewers if your niche is not that competitive you can use some of the servers from below.

1896 🛸 YouTube Live Viewers [🔥𝟱 𝗠𝗜𝗡 - 𝗥𝗔𝗡𝗞𝗜𝗡𝗚] | 🔻 Non-Drop | ☄️Speed +20k | ♻️ No Refill

1897 🛸 YouTube Live Viewers [🔥𝟭𝟱 𝗠𝗜𝗡 - 𝗥𝗔𝗡𝗞𝗜𝗡𝗚] | 🔻 Non-Drop | ☄️Speed +20k | ♻️ No Refill

1898 🛸 YouTube Live Viewers [🔥𝟯𝟬 𝗠𝗜𝗡 - 𝗥𝗔𝗡𝗞𝗜𝗡𝗚] | 🔻 Non-Drop | ☄️Speed +20k | ♻️ No Refill

1899 🛸 YouTube Live Viewers [🔥𝟲𝟬 𝗠𝗜𝗡 - 𝗥𝗔𝗡𝗞𝗜𝗡𝗚] | 🔻 Non-Drop | ☄️Speed +20k | ♻️ No Refill

1900 🛸 YouTube Live Viewers [🔥𝟭𝟴𝟬 𝗠𝗜𝗡 - 𝗥𝗔𝗡𝗞𝗜𝗡𝗚] | 🔻 Non-Drop | ☄️Speed +20k | ♻️ No Refill

1901 🛸 YouTube Live Viewers [🔥𝟯𝟲𝟬 𝗠𝗜𝗡 - 𝗥𝗔𝗡𝗞𝗜𝗡𝗚] | 🔻 Non-Drop | ☄️Speed +20k | ♻️ No Refill

1902 🛸 YouTube Live Viewers [🔥𝟳𝟮𝟬 𝗠𝗜𝗡 - 𝗥𝗔𝗡𝗞𝗜𝗡𝗚] | 🔻 Non-Drop | ☄️Speed +20k | ♻️ No Refill

1903 🛸 YouTube Live Viewers [🔥𝟭𝟰𝟰𝟬 𝗠𝗜𝗡 - 𝗥𝗔𝗡𝗞𝗜𝗡𝗚] | 🔻 Non-Drop | ☄️Speed +20k | ♻️ No Refill

Now it's all about caring for your Livestream, re-order 100-200 likes every 45 minutes, and keeping an eye on your live stream. We guarantee top exposure to it!
Results
Those are our results of the ranking, of course, we will list some of the really important things you need to know before ranking because there are more factors that can cause your video to rank, or don't rank for keywords. But tell us, do you love these results?
And look at those rankings!
Important things to know
Not all channels can rank - Sometimes your channel basically doesn't have enough authority to rank Livestream, it can be full of views, full of subscribers but something is there that won't let you rank. That's why we always try our channels with a smaller portion of views and easy keywords to see if it will even rank or not, if it doesn't rank, we try others, if it ranks, we use the methods from above.

Finding a good channel - Old channels (2008-2009) with at least 1,000,000 views on old uploaded videos have an advantage over new channels. Also, we notices some changes in the algorithm lately, and we spotted that channels ranking from 2014-2016 with at least 500,000 views on old videos and at least 5,000 subscribers can rank pretty well. So buy your old channels right, because it is really important.

Use unique video - if you are streaming "offline" using OBS, make sure that your video is unique, do not use previously used video because it just won't rank.

Don't give up - sometimes your first live stream won't rank, but tomorrow when you try it it will all be #1. So be patient, maybe your channel needs some warmup!


That's it guys, we hope that this article helped you rank your YouTube live stream and that you will get as much clout as you can! Enjoy it!