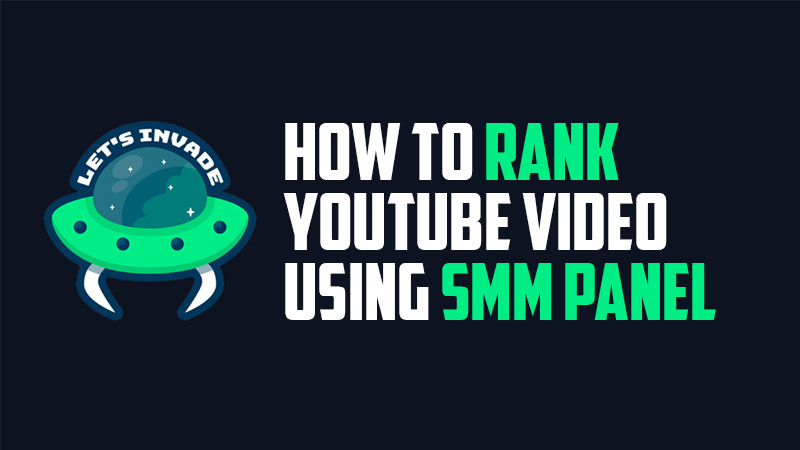 How To Rank YouTube Video using SMM Panel - YouTube SEO
🛸What's new on our Panel? 🛸
This is our first ever tutorial shared with our loved users, and trust us, it is GOLD! So follow some simple steps, and you will get your video ranked within minutes! We will cover today How To Rank YouTube video using SMM Panel services and this is YouTube SEO done right.
So if you are searching how to be #1 for almost any keyword on YouTube then this post will help you a lot because those are some basics that really affect any YouTube rankings based on our yearly experience in YouTube SEO.
👽 STEP #1 - Name your files🛸
First of all, you will need to edit the name & file data of your video and thumbnail into the title of the video you are about to upload.
After you renamed the files, select both of them, right-click and choose "Properties" then go to details, and just paste that title in the fields, just like on the image below. (NOTE. Image must be .jpg)
👽 STEP #2 - Uploading 🛸
After you change all the data, upload the video. Add the title, description (300+ words, couple of links to your social media profiles for example, and at the end of the video tell them to subscribe, like & share).
#Tip 1 - Use as many targeting keywords as you can into description but don't straight spam it, make sentences out of them.
#Tip 2 - Copy/Paste the title as the first sentence into your description.
#Tip 3 - Link to your previous video in the description.
#Tip 4 - Add not more than 10 tags into the "Tags" field on YouTube.
👽 STEP #3 - Boosting 🛸
After the video is uploaded those are the EXACT steps you will need to do in order to have the best chance to rank the video.
STEP 1 - Order views just 1,000 views above your FIRST Competitor (if the competitor has 10,000 views, you order 11,000) - Okay, but which views? THESE!
1380 🛸 YouTube 𝗛𝗥 NLO™ Views [👽Fast Start] [Lifetime Guarantee]🚀⭐🔥♻️
STEP 2 - While we are waiting for the views to kick in, go and share your video on Twitter, Facebook, Reddit, anywhere possible, to get as many natural Social Signals as you possibly can.
STEP 3 - Views started coming? Now order 50 likes every 40 minutes, which likes? We suggest these below, but you can test any from our panel.
1374 🛸 YouTube Likes [👽 Fast Likes][20k/day]🔥⭐🚀
STEP 4 - Now when everything is prepared it's time for CTR Boosters to kick in. You can order any amount of CTR Boosters you want, it depends on the competition, but more is always best!
🛸 YouTube Engagement Booster WW [Views + Likes + Comments + Shares + Subs] [25$/100]🔥🔥⭐♻️
STEP 5 - Adding some custom comments is always great, the more the better, you can choose any comment service we have, it's up to you to test which quality you like the most!
STEP 6 - Spray some social signals for YouTube, especially from Facebook or Twitter, they tend to trigger algo the most.
👽 STEP #4 - Keeping the ranks 🛸
Views started rolling in, likes are there, everything is prepared and your video is most likely already ranked. Now it's time to keep those ranks in the upcoming days. And it's by buying our NRV views every single day until day 10, but no need to spend a lot of money on that, basically 1,000-2,000 per day is enough.
1381 🛸 YouTube 𝗡𝗥𝗩 NLO™ Views [👽Fast Start] [Lifetime Guarantee]🚀⭐🔥♻️
👽 TA-DA, share results! 🛸
That's it guys, we hope you found this post useful and you learned something new from this. In the upcoming weeks, we will share some more golden nuggets for all Social Media Platforms in order to help you get the most out of our services & panel.