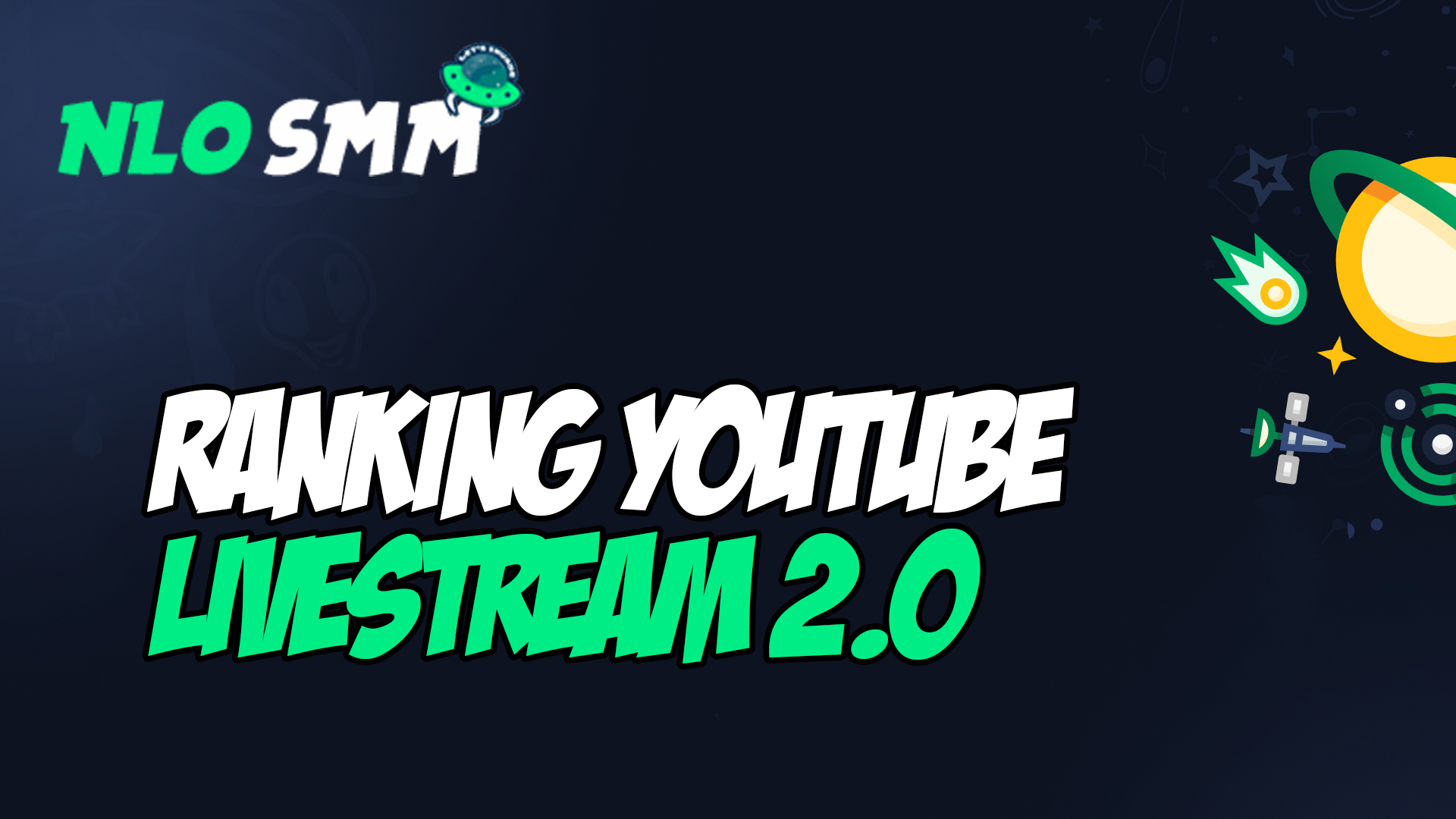 How To Rank YouTube Livestream after the update? Top Exposure YouTube Livestream! 2022
We've been manipulating YouTube ranks for over 7 years, either if it's a regular video or a YouTube Livestream, and we've been doing it successfully and without any problems with some of the basic principles of the YouTube algorithm. Today in this article we will cover everything you need to know in order to learn how to rank YouTube Livestream for Keywords or get Top Exposure YouTube Livestream. There is no secret code, like one thing that you will need to do in order to get your Livestream ranked for all the keywords, there are sets of many different things that can affect rankings and today we will cover everything you need to know before starting Livestream!
1
Name your files right!
This part is only if you are using OBS to stream the Loop video of your choice.
Many people don't understand that it is really important for you to name your video file & thumbnail file after your keywords. How? It's easy, grab the title you are about to use in your Livestream, in our example it will be

" Subway Surfers Hack - How To Get Free Coins & Keys in 2022 iOS Android "

so we will rename the files to suit that, let's take a look how it looks:
Now what you will have to do next is to use that same title for metadata for both video + thumbnail, just right-click on the file, go to "Properties" and then add it like this (check the image below):
Now, the first step is basically finished. Now YouTube knows your keywords right after you clicked on the "Upload" button. Let's move on to the other step!
Basic SEO
When it comes to preparing your Title & Description it's all about the main keywords you are targeting. We love to put the main keyword FIRST in the title, this is how it looks like when we do it:
All that is left to be done is to add your tags, and language and hit that "Save" button. The next thing to do is to start your live stream because we are ready to rank thins YouTube Livestream and get that top exposure!
Ranking YouTube Livestream after the BIG UPDATE
All that is left to be done is to add your tags, and language and hit that "Save" button. The next thing to do is to start your live stream because we are ready to rank thins YouTube Livestream and get that top exposure! Things changed a lot in the past months and YouTube made an update that stopped ranking live streams that easily, but we have the solution that is working right now!
First off, kickstart your channel by buying our WEEKLY FANS, this package will guarantee you anywhere from 200-1200 high-quality viewers all the time whenever you start your Livestream.
1556 🛸 YouTube Live Viewers [🔥𝗪𝗘𝗘𝗞𝗟𝗬 𝗙𝗔𝗡𝗦] | 🔻 Non-Drop | ☄️Speed +200-1200 | ♻️ No Refill


This is something that will help your channel get all the needed action at the beginning of your Livestream and after that is coming something called "BOOSTING" the Livestream with additional views. And this is the recipe we found working for us + our clients in order to keep their live streams on top exposure and ranks over the hours!
Choose anything from this category:
🛸 YouTube - Live Viewers [SPECIAL] 🛸
If you are planning to run your Livestream for 24 hours (like most of us are doing) then you should order this:
2439 🛸 YouTube 𝗥𝗔𝗡𝗞𝗜𝗡𝗚 Live Viewers [𝟮𝟰 𝗵𝗼𝘂𝗿𝘀 𝗰𝗼𝗻𝗰𝘂𝗿𝗿𝗲𝗻𝘁] | 🔻 Non-Drop | ☄️Speed +20k | ♻️ No Refill


You can order anywhere from 1000-2000 depending on your niche & how hard your keywords are, since you already have anywhere from 200-1200 viewers because you bought our WEEKLY FANS this will be a great addon to your Livestream.
Important things to do
Order likes, you MUST order likes to your Livestream, it's not gonna work if you have 3000 viewers without a single like. Check our YouTube likes, they are cheap and amazing. Always order around 20-30% likes of the number of viewers you have on your stream.

Order shares, shares are really crucial and important for ranking your Livestream. Also, they are really cheap, order around 1000-2000 of them. Check them out 1661 🛸 YouTube Live Shares [🔥𝗥𝗔𝗡𝗞𝗜𝗡𝗚] | 🔻 Non-Drop | ☄️Speed +3k| ♻️ Lifetime Refill

Share your channel URL on social media profiles. For example, share it on some dummy Facebook profile and send a couple of likes to that post, so Youtube can see that your channel has some authority.

Not all channels can rank

- Sometimes your channel basically doesn't have enough authority to rank Livestream, it can be full of views, and full of subscribers but something is there that won't let you rank. That's why we always try our channels with a smaller portion of views and easy keywords to see if it will even rank or not, if it doesn't rank, we try others, if it ranks, we use the methods from above.

Finding a good channel - Old channels (2008-2009) with at least 1,000,000 views on old uploaded videos have an advantage over new channels. Also, we notices some changes in the algorithm lately, and we spotted that channels ranking from 2014-2016 with at least 500,000 views on old videos and at least 5,000 subscribers can rank pretty well. So buy your old channels right, because it is really important. We also sell them, you can find them under our category 🛸 YouTube - Accounts [Monetized | Aged | PVA] 🛸

Use unique video - if you are streaming "offline" using OBS, make sure that your video is unique, do not use previously used video because it just won't rank.

Don't give up - sometimes your first live stream won't rank, but tomorrow when you try it it will all be #1. So be patient, maybe your channel needs some warm-up!